My recent body of work is a study of a question of autobiographic memory and personhood, emotional development, suffering, journey toward self-knowledge and relationship between past and present.
A L E X A N D E R S T O L I N | | | biography
[lives & works – Madisonville, LA ::: b. 1963, Kiev, Ukraine]
ALEXANDER STOLIN, born and raised in Kiev, Ukraine (under the former Soviet Socialist Republic), where he received intensive training and a master of fine arts degree in his homeland's traditional art academies. He immigrated to San Francisco in 1992, met his future wife in Hattiesburg, Mississippi, then married and settled in New Orleans. He maintains a home and studio in Madisonville, Louisiana, and is a significant but understated figure in the New Orleans art community. As art critic D. Eric Bookhardt suggested in 2002, "Stolin is more accomplished than he is famous." His art, often exhibited in thematic series that incorporate a variety of media, ranges from intimate portraits to large-scale murals (one measuring twelve feet by seventy-two feet). He has worked on a progressively larger scale, most recently designing and painting projects for the Louisiana film industry. Stolin's technically proficient and complexly layered art reflects a unique fusion of the academic training he received in Kiev and his evolving response to the very different culture, lifestyle, and subject matter he has discovered in New Orleans, Madisonville, and the Gulf South.
Stolin's Face to Face series of portraits, completed from 2000 to 2002, featured New Orleans artists including Douglas Bourgeois, Jeffrey Cook, and Margaret Witherspoon and the architect Jimmy Lamantia, as well as his Madisonville neighbors, including Bud Goldate, Hascal Agee, and Willie Lee Marshall. These were important works, exhibited at the Ogden Museum of Southern Art when it opened in 2003. "There are portraits—and there are portraits," said Bookhardt, referring to the series. "The best tell us something essential about the subject. The rest are just pictures." Observing that Stolin's work "offers insights into the processes of perception," Bookhardt concluded that "his images distill something of the subject's life essence filtered through the eye and hand of an unusually skilled, sensitive, and increasingly accomplished painter." A diversified range of works followed, including an exploration of his childhood memories of Kiev, enhanced by family photographs and a series of letters from Kiev to relatives in America. Stolin juxtaposed the historic and vernacular architecture of Kiev with New Orleans buildings of the same period, as is evident in a painting such as Waiting II. Another series explored the marshes and landscapes of the north shore of Lake Pontchartrain. Stolin also painted genre scenes of small-town life in Madisonville, becoming, in his own way, a southern regional painter. Works in this series included Bayou Lacombe, Breakfast at Badeaux's, and Jr. High at Madisonville, which featured a painted image of the school's retired bus and metal from the actual bus, fusing art, history, memory, and reality.
The art Stolin began to create in New Orleans demonstrated his technical skills, knowledge of art history, and the evolving range of his subject matter, reflected from one series and exhibition to the next, yet it was challenging for critics to classify his work. This was evident in the series Stolin exhibited during his first decade in the city, beginning with Byzantium on the Bayou (1993–1994), which combined historical Byzantine art references with New Orleans and Mardi Gras subjects, such as Mardi Gras Madonna and Adoration of St. Gator. In his Midnight Dessert series (1995–1997), he created works such as Tea in Manhattan and Rembrandt and Nathan, a large painting that Bookhardt described as "a vision of Rembrandt and various Dutch masters promenading down the sidewalk past Nathan's Deli in New York." Following that, he completed The Water Series (1998–1999), featuring reflective and heavily worked surfaces in paintings such as Reflections #2 and Study of Fish and Swimmers.
Stolin exhibited for years with the Marguerite Oestricher Gallery in New Orleans. After its closing he became associated with the Taylor-Bercier Gallery in New Orleans and continues to exhibit his art across Louisiana. His works are included in the collection of the Ogden Museum of Southern Art in New Orleans as well as in numerous corporate and private collections.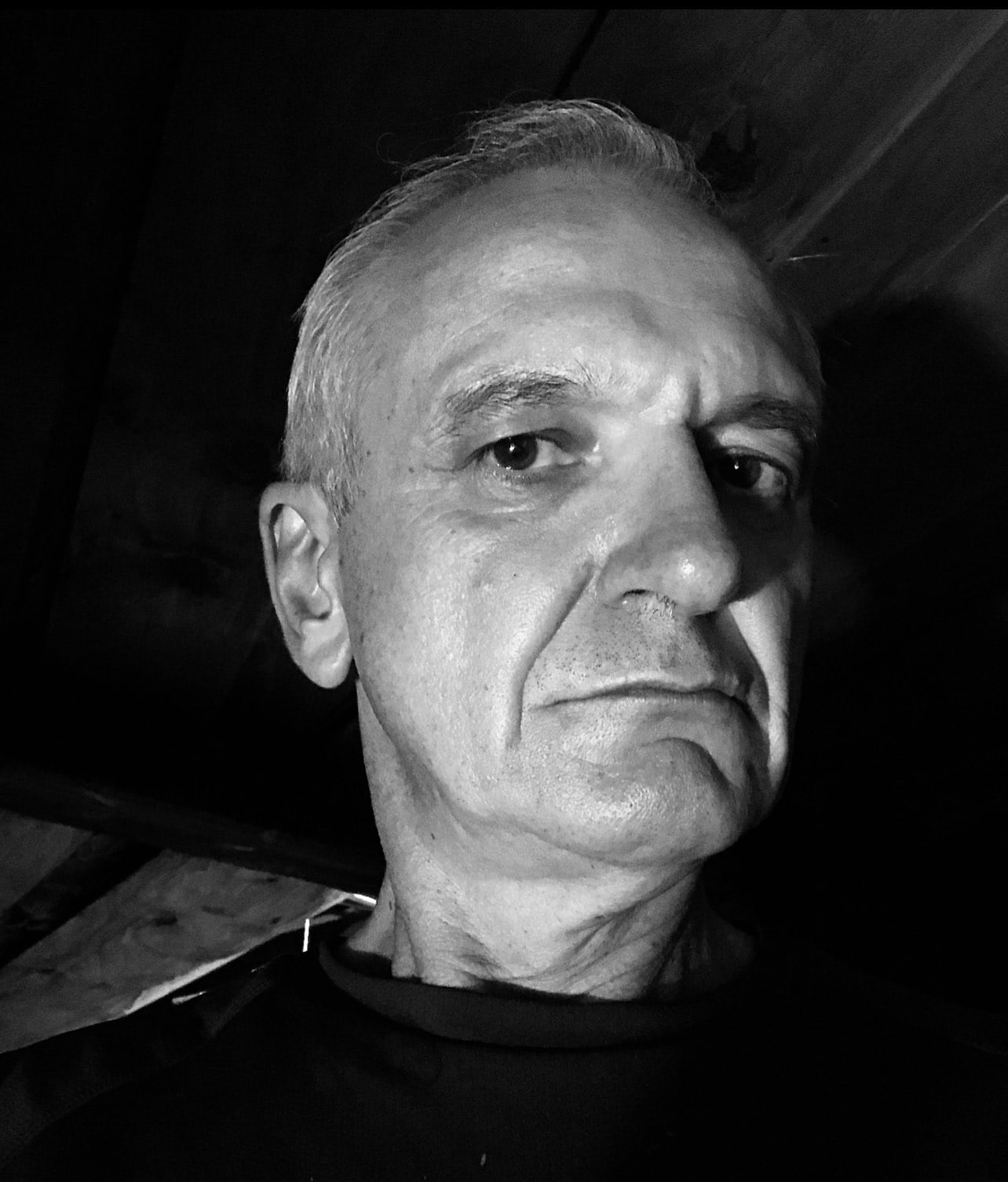 I divide my life and art into two parts. The first 29 years in my native Kiev Ukraine, where I was born and raised and received my education. In 1992 I immigrated to the United States. In the past 27 years I have lived in Louisiana. It is difficult to say which way my development as an artist would have gone if I had stayed in Ukraine. I do know that the past 29 years have proven to be a very intense and stimulating learning experience. I have had the opportunity to learn a new language, experience new customs and cultures, was able to travel, visited museums and cities that in my youth I read and studied about in art history and literature. I have been able to study the world history from a different perspective.
This windfall of new emotions and experiences has greatly enforced my education and development as an artist. It has brought new ideas and inspiration. I have followed my intuition and feelings in an attempt to develop a story based on my visual language. I have utilized images of old engravings and photographs, have searched for answers while painting. My paintings and drawings are figurative. The images that I adapt and personify as specific characters speak metaphorically about my personal experiences. My recent body of work is a study of a question of autobiographic memory and personhood, emotional development, suffering, journey toward self-knowledge and relationship between past and present. I am searching for images that help me to reconstruct my past as a part of relationships with others. The characters in these paintings help me express feelings, sensibilities and moral being matters.
In the process of working on this series I chose to render paintings in black and white and sepia palette, combination of low-key and chiaroscuro dramatically shadowed unbalanced composition was inspired by Film Noir and German expressionism and coherent with imagery that I borrowed from old photos of my family in Ukraine and my wife Mary Kay's family here in the US. Some of these images are 150 years old. I assembled images to create poetic expression of the material world and suggest specific ideas, dealing with memories and temporality, personal histories of its characters. The concepts of time and remembrance explored through socially changing framework of world history and where I am trying to express a sense of universal oneness.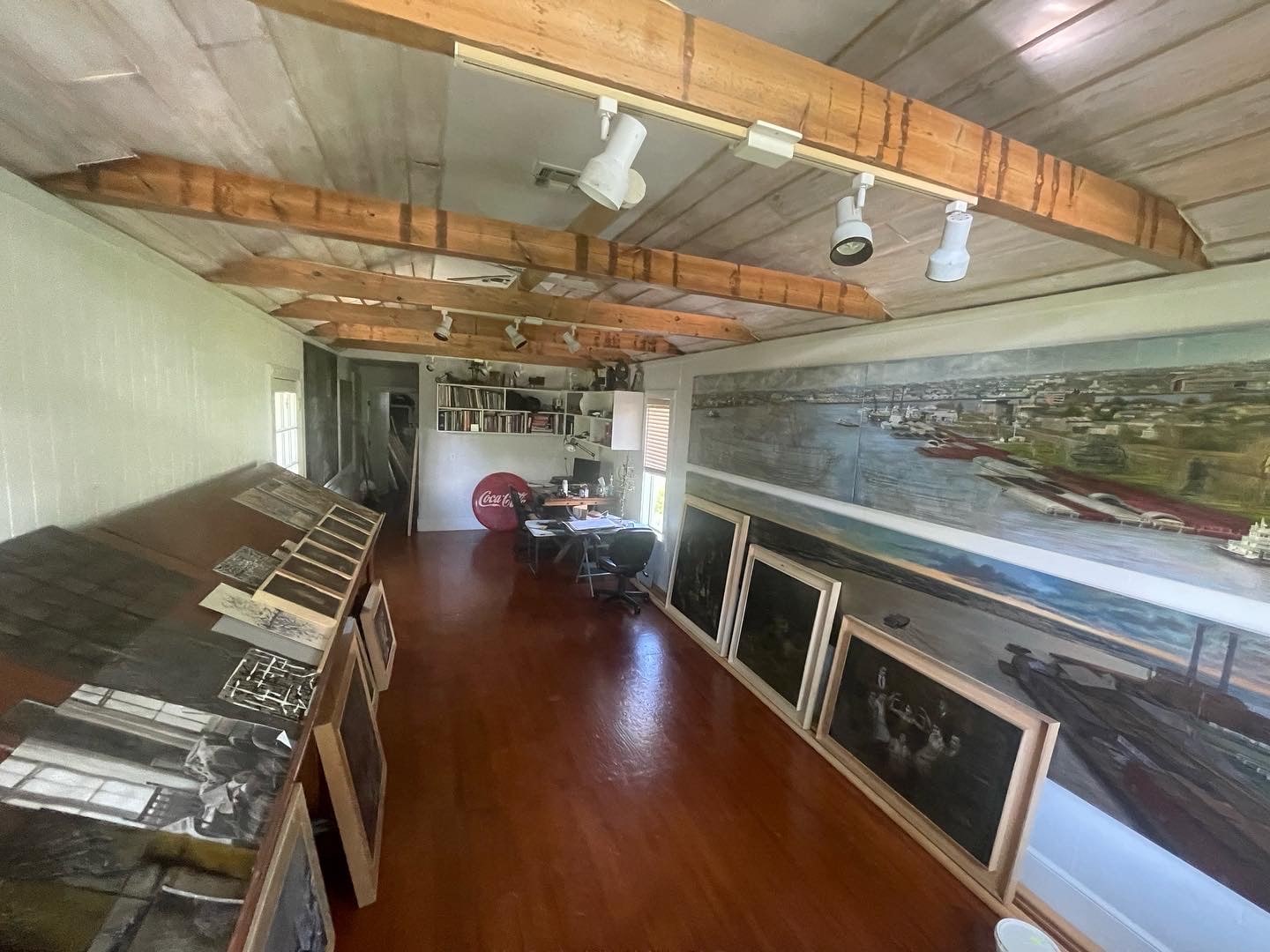 EDUCATION
1988 The State Institute of Art – Kiev, Ukraine MFA Degree in Fine Art
1981 The State School of Art – Kiev, Ukraine
SELECTED EXHIBITIONS
2022 Solo Exhibition, Jonathan Ferrara Gallery, New Orleans, LA
2006 The 2006 20" x 20" x 20" National Compact Competition and Exhibit, Curated by Tara McDowell,
San Francisco Museum of Modern Art, LSU Union Art Gallery
St. Tammany Art Association, Covington, LA, one man show
2005 Made in New Orleans, A Survey of Contemporary Art From the Crescent City. Space 301, The Center for
the Living Arts, Mobile, AL. Curated by Jacqueline Bishop.
Traveling to: The Contemporary Arts Center, New Orleans
Art Space, Shreveport, LA
Bradbury Gallery, Arkansas State University
Mobile Museum of Art, Mobile, AL, "the Saltline Biennial", A juried group show
Louisiana Artists 2005, an All Media Competition LSU Union Art Gallery, Baton Rouge
The Texas National 2005 Exhibition, Griffith Gallery, Stephen F.
Austin State University, Nacogdoches, Texas. Juror: James Surls
2004 The Hattiesburg Cultural Center, Hattiesburg, Mississippi, one man show
2003 The Ogden Museum of Southern Art, New Orleans,
"The Story of the South: Art and Culture, 1890-2003" opening exhibition
Mobile Museum of Art, Mobile, AL, "The Saltline Biennial" a juried group show
2002 "White Linen Night". Marguerite Oestreicher Fine Arts, New Orleans one man show
Kauffman Gallery-Huber Art Center, 3rd Annual Juried National Exhibition.
Shippensburg University, Shippensburg, PA. Juror: Robert Fishko, Forum Gallery, NYC
2001 Masur Museum of Art, Monroe, LA, "Julia Street North" a group show
2000 Pensacola Museum of Art, Pensacola, FL, "100 Mile Radius" a juried group show
Contemporary Arts Center, New Orleans. Arts for Arts Sake:
"Under the Influence: Artists Reflect on the 20th Century" a group show
Center for Fine and Performing Arts, University of West Florida, Pensacola group show
Marcia Wood Gallery, Atlanta, GA, "Petite Physique" a group show
12 x 12 x 12 x 2000 National Small Painting and Sculpture Competition
San Jacinto College South, Houston Texas. First Place, curated and awarded by Marysol Nieves,
Senior Curator, The Bronx Museum of the Arts, NYC
1999 Marguerite Oestreicher Fine Arts, New Orleans one man show
"Project Harmony Competition and Exhibition", Louisiana State Archives, Baton Rouge.
First Place Tie, a group show
1998 Clark Hall Gallery, Southeastern Louisiana University, Hammond a group show
1997 Gallery 28, Delray Beach, FL. one man show
"Southeastern International Festival", Clark Hall,
Southeastern Louisiana University, Hammond a group show
"Art for Arts Sake", Marguerite Oestreicher Fine Arts, New Orleans, one man show
"Portraiture as Art: Unique Portraits by Contemporary Southern Artists" Lennox Square, Atlanta, GA
The Second Entergy Louisiana Open Juried Exhibition, the Contemporary Arts Center of New Orleans:
a group show juried by Marti Mayo, Director, Contemporary Arts
Museum, Houston
Clark Hall Gallery, Southeastern Louisiana University,
Hammond "South by Southeast" a group show
St. Tammany Art Association, "The Greek Myth", Covington, LA a group show
1996 The Hammond Cultural Foundation, "North Shore Invitational" a group show
National Art Exhibition: "Form & Metaphor", Eastern New Mexico University, Portales a group show
Marguerite Oestreicher Fine Arts, New Orleans one man show
1995 The 1995 Cheekwood Museum National Contemporary Painting Competition, Nashville: a group show
juried by Inge-Lise Ecmann- Deputy, Director, San Francisco Museum of
Modern Art and by Robert Ryman, Artist
The Entergy Louisiana Open, "Arts for Arts Sake", The Contemporary Arts Center of New Orleans:
a group show juried by free lance critic, curator, and poet, John Yau
"Naked>>Nude…The Human Figure", a group show. Clark Hall Gallery,
Southeastern Louisiana University, Hammond
Marguerite Oestreicher Fine Arts, New Orleans, a group show
St. Tammany Art Association, "The Human Figure", Covington, LA a group show
1994 Marguerite Oestreicher Fine Arts, New Orleans one man show