"I consider my paintings to be portraits, portraits of words."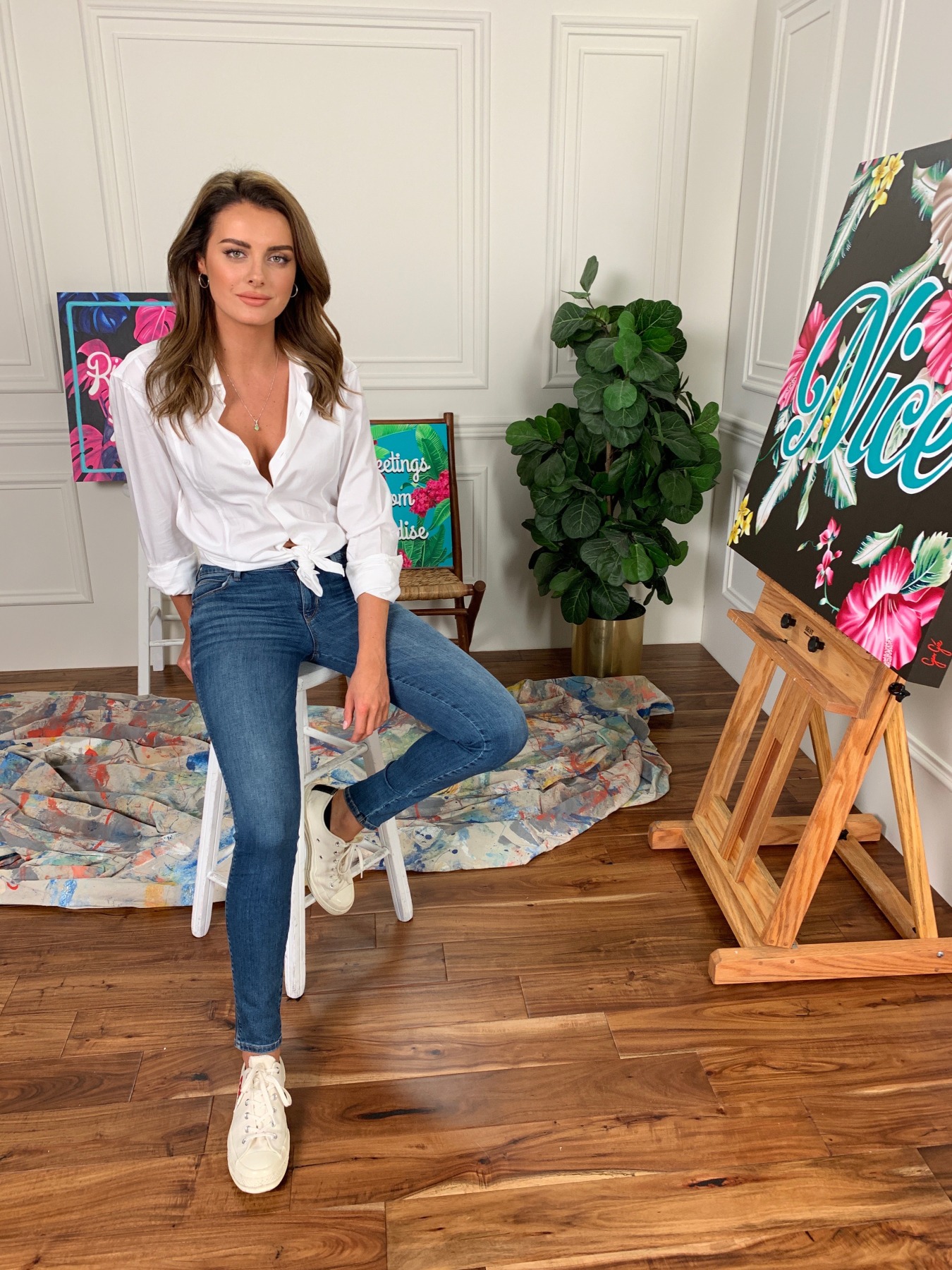 D I A N A G E O R G I E | | | @dianageorgie
[lives & works Los Angeles, CA ::: b. 1990, St. Petersburg, Russia]
DIANA GEORGIE was born during the transformative era that was marked by the dissolution of the Soviet Union. She and her family moved to the United States when she was only a year old, ultimately settling in San Francisco where she was raised. At the age of 16, Georgie began a career as a fashion model which brought the opportunity to work with many of the top visual artists, designers, and magazines. While working internationally for over a decade in the fashion industry Georgie balanced her career with her passion for creating art. After years of integrating the dual pursuits, there came a turning point when Georgie decided to embrace her art as a full-time endeavor.
After being featured in group shows, Georgie had her debut solo show Pleasure Paradox at Gallery 30 South in Los Angeles in 2018. The show featured a curated ensemble of square paintings where each work focused on an individual word that was framed by various flora and fauna. The interplay between intricately depicted leaves and blossoms, a homage to retro aesthetics, and the potent resonance of each chosen word conveyed layers of meaning, often with a touch of playful irony. Since Pleasure Paradox, Georgie has gone on to collaborate with numerous brands and labels, ranging from major fashion retailers, and hospitality groups, to sports apparel and accessories.
Georgie's works feature vibrant and extravagant settings, often referencing pop culture and contemporary iconography that range in theme. Her extensive knowledge of art history and strong instincts for graphics inspire her ongoing exploration and creation of new works.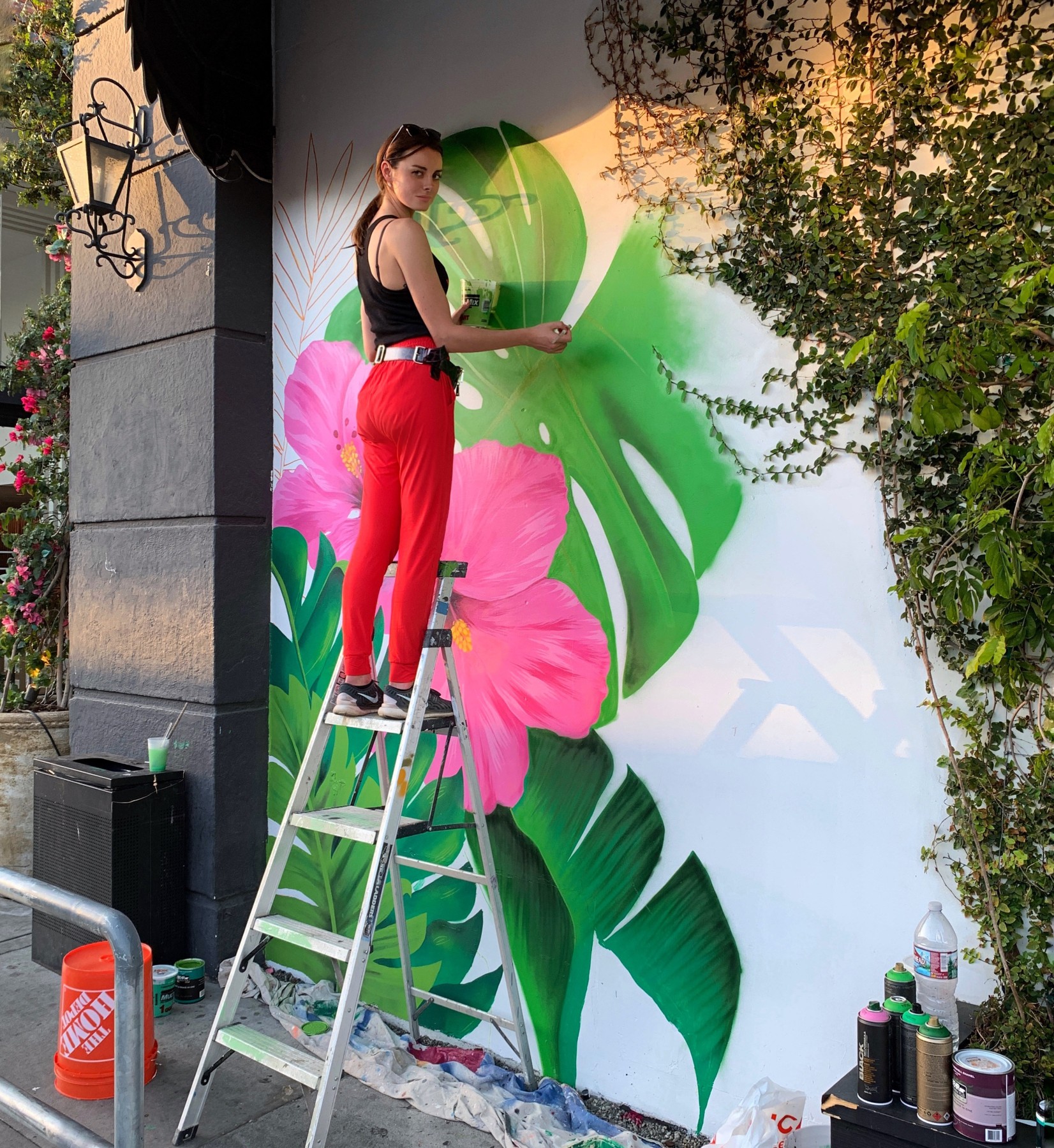 As an artist, my creative journey is a continuous exploration of the intersection between visual aesthetics and conceptual depth. In the realm of text-based paintings, where language transcends its conventional boundaries and becomes a visual art form, I strive to breathe new life into my words. My words become portraits, rising above being mere symbols to express depth, emotion, and meaning.
Within each of my paintings, there is often a surrounding tapestry of flora and foliage. Each leaf, petal, and tendril is rendered in painstaking detail, creating a frame that cradles and enhances the central message. The choice of the botanical elements is a process in itself. Just as different words evoke different emotions, each type of flower or leaf carries its own symbolic weight. Through each brushstroke, I aim to meticulously capture the details of each petal, each vein. It is through this dedication to detail that I aim to transport viewers to where they can almost feel the rustle of the leaves, or smell the delicate fragrance of the flowers.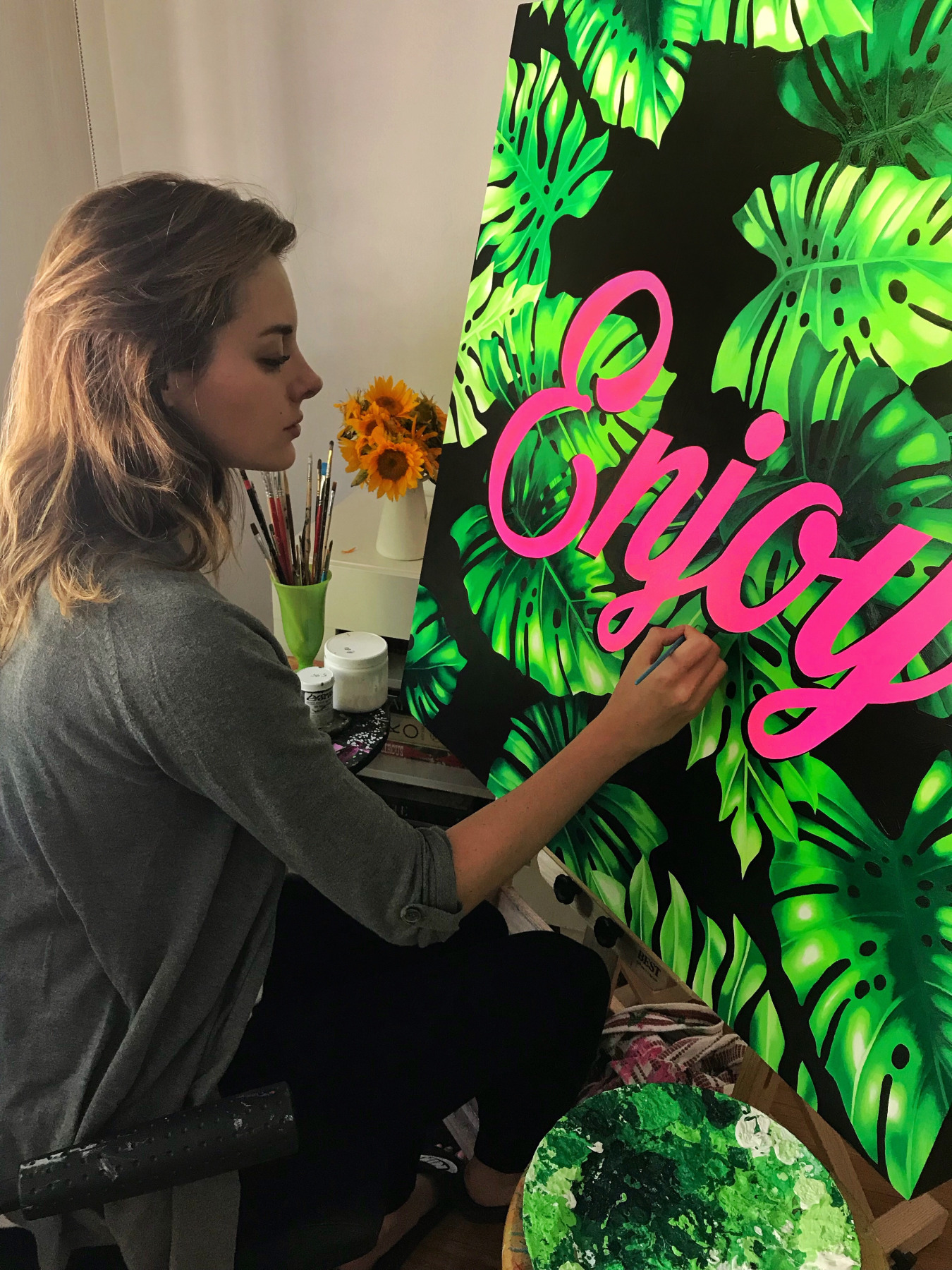 SOLO EXHIBITIONS
2019 Guess Collection + Diana Georgie Launch and Live Painting, Lincoln Road, Miami, FL
2019 Diana Georgie Pop-Up, Ron Robinson, Los Angeles, CA
2018 Pleasure Paradox, Gallery 30 South, Los Angeles, CA
SELECT GROUP EXHIBITIONS
2022 10th Annual Supersonic Show, Hashimoto Contemporary, Los Angeles, CA
2021 The Moleskine Project Exhibition, Spoke Art, San Francisco, CA
2021 Sanrio Presents: Mr Men Little Miss 50th Anniversary Exhibit, Times Square Hong Kong
2020 Rapid Response Fundraiser, Museum Of Contemporary Art Detroit, Detroit, Mi
2020 9th Annual Supersonic Show, Spoke Art, San Francisco, CA
2017 5th Annual Supersonic Show, Spoke Art, San Francisco, CA
2017 Laluzapalooza, La Luz De Jesus Gallery, Los Angeles, CA
SPECIAL PROJECTS
2023 The Beverly Hills Hotel, print and shirt release
2020 Canon USA + Diana Georgie Equally Obsessed Campaign
2019 The Imagine Mural, Vinyl District Los Angeles
2019 H.Wood Group Bootsy Bellows wallpaper design
2019 Guess + Diana Georgie watch collection
2018 The Beverly Hills Hotel, print release