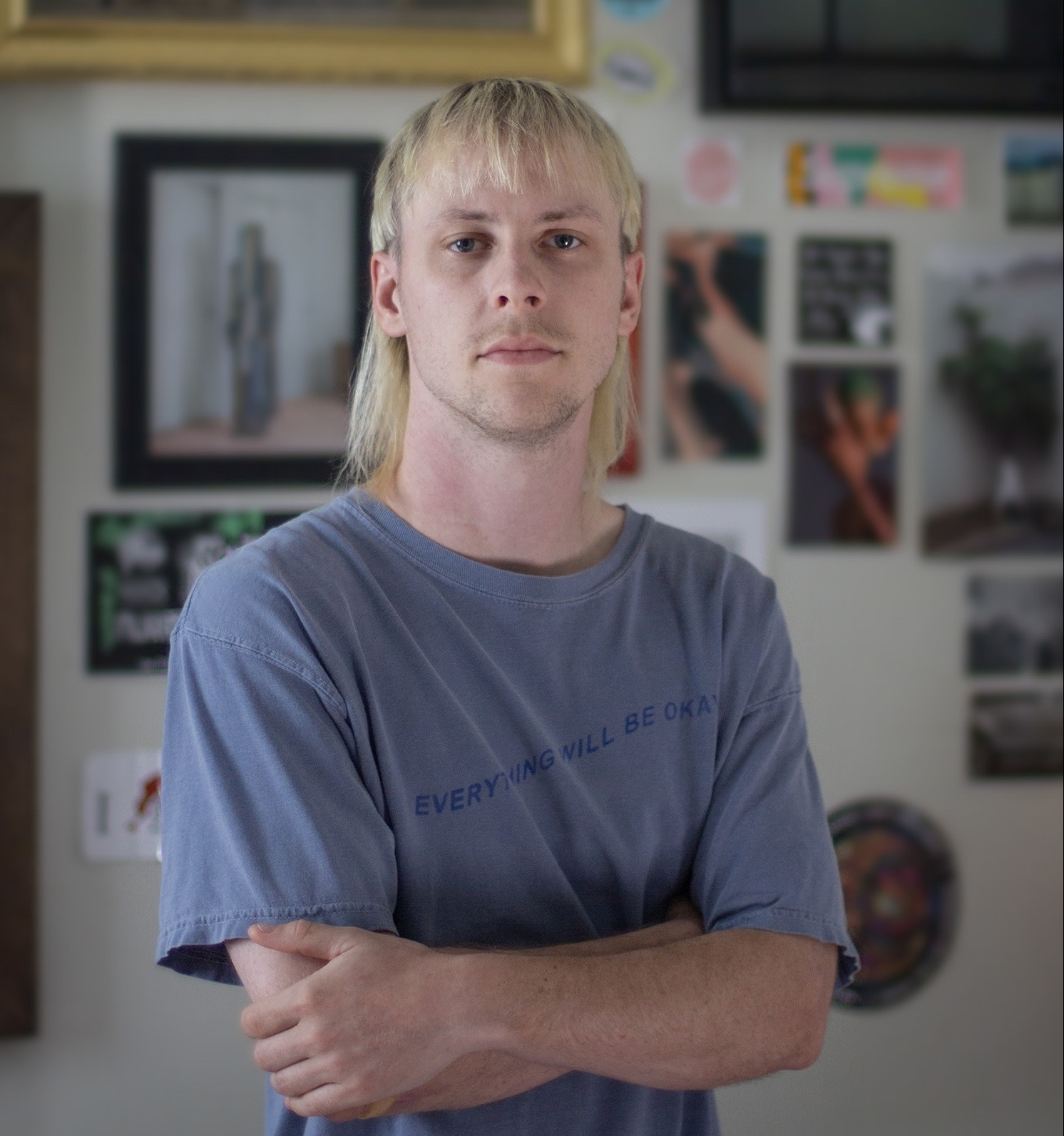 J A C O B M I T C H E L L | | | @thesoggyblanket
[lives & works – New Orleans, LA ::: b. 1997, Shreveport, LA]
JACOB MITCHELL is an American photographic artist currently residing in New Orleans, Louisiana. He exhibited in Louisiana Contemporary at Ogden Museum of Southern Art in 2020, as well as the following years of 2021-'23. At the beginning of 2022, Jacob had work showcased at the 6th Biennial National Juried Exhibition at the School of Design, Louisiana Tech. His work has gained recognition throughout social media platforms and online publications. His most recent achievements include creating a commissioned photo for The New Yorker & and receiving second place in the conceptual category of the Minimalist Photography Awards.
Jacob Mitchell portrays the beauty and liveliness found in commonly mundane subjects, creating evidence of things often ignored by most. Bending the lines between the real world and what is human-made, constructing photographic works that are seamless to the eye.
EDUCATION
2018 AA Communications Media With A Focus In Photography, B.P.C.C.
SOLO EXHIBITIONS
2023 Louisiana Contemporary, Ogden Museum Of Southern Art, New Orleans, LA
2022 Louisiana Contemporary, Ogden Museum Of Southern Art, New Orleans, LA
2022 6th Louisiana Biennial: National Juried Exhibition, Louisiana Tech School Of Design, Ruston, LA
2021 Louisiana Contemporary, Ogden Museum Of Southern Art, New Orleans, LA
2020 Louisiana Contemporary, Ogden Museum Of Southern Art, New Orleans, LA
2020 Newvisions2020: A Student Show, Texas Photographic Society
PUBLICATIONS
Cover photo for fiction story "Princess" by T.C. Boyle, The New Yorker, November 2022
Minimalist Photography Awards, Second Place in Conceptual, 2022
"Perspectives: Jacob Mitchell" Country Roads Magazine, September 2020
"Light From Above With Jacob Mitchell" Luminous Landscape, February 2019
"Who We're Following: Jacob Mitchell" OPUMO, May 2018
"Instagram Selection #149" Fisheye Magazine, 2018
"Shreveport-Bossier on Instagram: Minimalist Artist Jacob Mitchell" Shreveport Times, April 2018