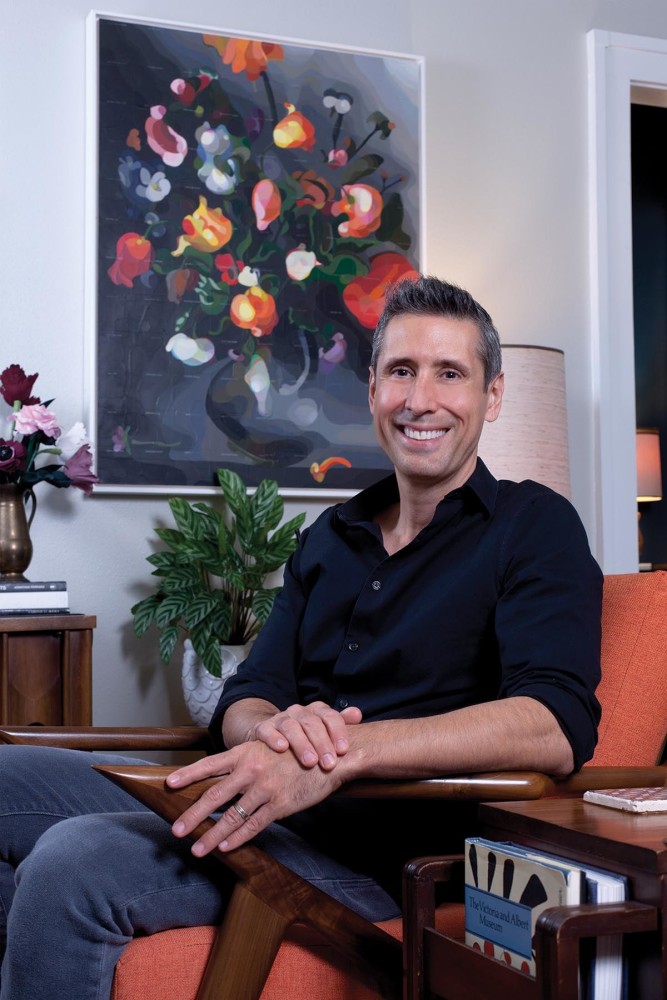 31 March 2021 (New Orleans, LA) JONATHAN FERRARA GALLERY is proud to announce, Life in Bloom, a solo exhibition of new mosaics and textile installations by New Orleans-based artist Carlton Scott Sturgill. In this exhibition, the artist ruminates on the symbolism associated with flowers and pays homage to the memories contained within the repurposed clothing he uses for his installations and sculptures. Life in Bloom will debut eight new paint chip mosaics, two floral textile installations, and five floral textile sculptures.
The exhibition will be on view from 1 April 2021 through 29 May 2021 with opening receptions coinciding with the Arts District of New Orleans' (ADNO) First Saturday Gallery Openings on Saturday, 3 April and Saturday, 1 May from 12 pm - 7 pm. For more information, press or sales inquiries please contact Gallery Director Matthew Weldon Showman at 504.343.6827 or matthew@jonathanferraragallery.com. Please join the conversation with JFG on Facebook (@JonathanFerraraGallery), Twitter (@JFerraraGallery), and Instagram (@JonathanFerraraGallery) via the hashtags: #CarltonScottSturgill, #JonathanFerraraGallery, and #ArtsDistrictNewOrleans.
Flowers have been a large part of my work for years, but they took on new meaning for me in 2020. As our backyards and gardens became a common respite from the fear, isolation, and boredom of the early days of the pandemic, I thought about the ubiquity of flowers in our lives. We use them to celebrate when life is good, as well as to sooth ourselves when it is not. Their ambiguity is what allows them to be such a versatile symbol. As the world became more uncertain, I craved beauty, both in my life and in my work. Fairly quickly the floral motifs that have been a mainstay of my wall installations began to dominate my sculptures and appear in my paint-chip mosaic work.
Most of my flowers are created using second-hand shirts sourced from thrift shops. As I shop for materials, I focus on searching for certain colors, textures, and patterns, but I also think about the people who once cherished these items of clothing. I think about how the shirts end up here. Did the size or style no longer fit the owner? Or maybe it was part of the final Goodwill run after a loved one passed. I like to think that an article of clothing can have a memory, retaining an essence of the person who wore it, and that once transformed, a little bit of that spirit becomes part of the artwork.
Over the years, since I started making flowers from shirts, I've had many people tell me that a petal or a leaf is made from the same material as a shirt that they once had. I often wonder if objects can circle back and reunite with their previous owner. I realize that the odds are slim, but they're not zero. If you have donated a shirt to charity in New Orleans in the last couple of years, then there is a chance that a little bit of it is hanging on the gallery wall right now.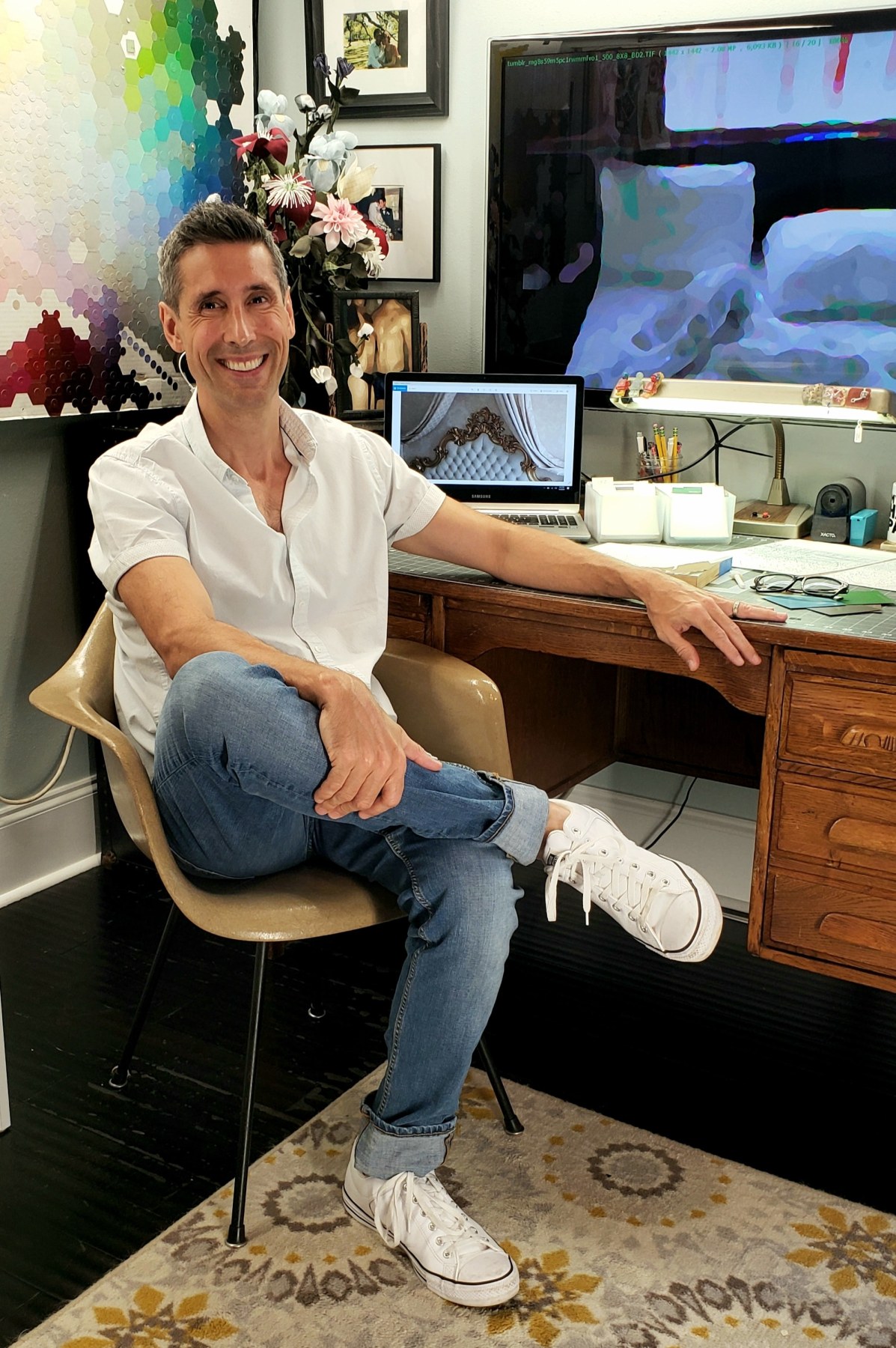 CARLTON SCOTT STURGILL was born in Cincinnati, Ohio in 1971 and is a graduate of the University of Cincinnati (B.A. 2002) and Chelsea College of Art and Design (M.A. Fine Art 2005) in London, United Kingdom. His multidisciplinary body of work includes painting, sculpture, collage, and installation and incorporates a wide variety of materials, with a particular emphasis on repurposed everyday objects. His site-specific floral installations created using second-hand button-down shirts have been displayed in settings as diverse as the Drifter Hotel in New Orleans, Louisiana, Pegasus Bank in Dallas, Texas, and as part of the New York City Arterventions public art program, through which he was awarded a grant to create works to be displayed along the Gowanus Canal in Brooklyn. His work has been exhibited in galleries and museums both nationally and internationally, including the Cornell Museum of Art in Delray Beach, Florida, Temple Bar Gallery in Dublin, Ireland, the Contemporary Arts Center New Orleans, and the Newhouse Center for Contemporary Art in New York City. After living in Ohio, London and Brooklyn, Carlton relocated to New Orleans in 2015, where he lives with his wife, Nicole.