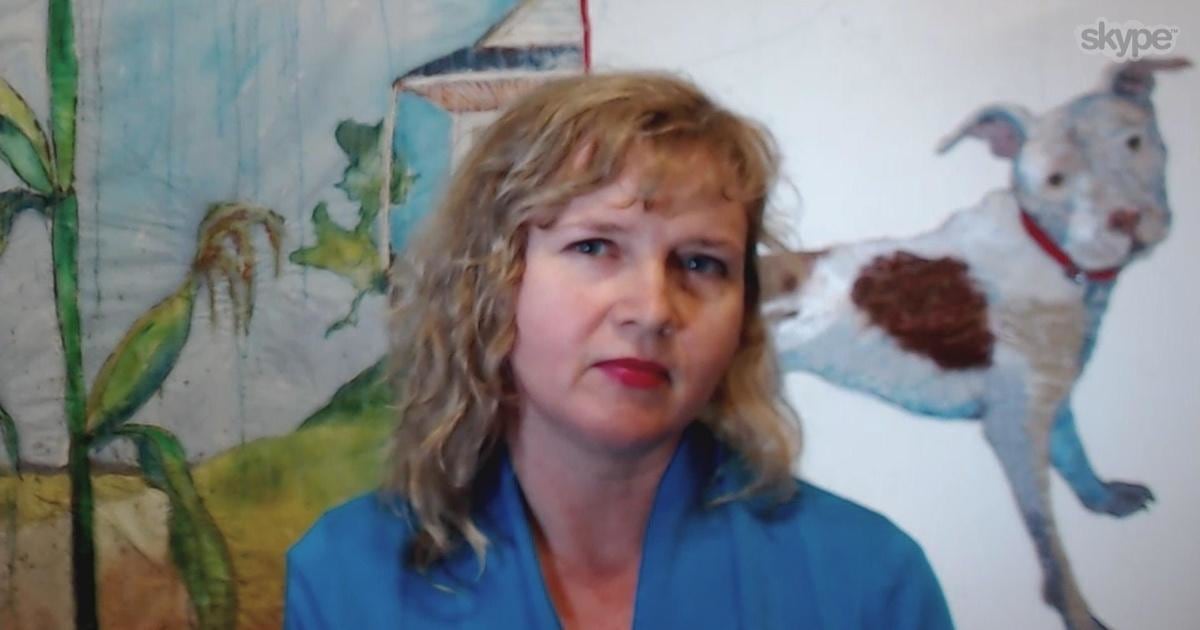 17 February 2021 (New Orleans, LA) JONATHAN FERRARA GALLERY is proud to announce, Shape-Memory, a solo exhibition of new textile and sculptural artworks by New Orleans-based artist Gina Phillips. Initially born from her residency at the Joan Mitchell Center and further inspired by a yearning for outdoor spaces during the COVID-19 pandemic, this exhibition is an exciting departure from the figurative textile portraits and landscapes that have characterized Gina Phillips' career thus far. Shape-Memory reflects Gina Phillips' unique aptitude for rich colors and bold shapes as she embarks on a new period of abstraction.
The exhibition will be on view from 17 February 2021 through 27 March 2021 with an opening reception coinciding with the Arts District of New Orleans' (ADNO) First Saturday Gallery Openings on Saturday, 6 March from 10 am - 5 pm. For more information, press or sales inquiries please contact Gallery Director Matthew Weldon Showman at 504.343.6827 or matthew@jonathanferraragallery.com. Please join the conversation with JFG on Facebook (@JonathanFerraraGallery), Twitter (@JFerraraGallery), and Instagram (@JonathanFerraraGallery) via the hashtags: #Gina Phillips, #JonathanFerraraGallery, and #ArtsDistrictNewOrleans.
"...the nurse of generation, moistened by water and inflamed by fire, and receiving the forms of earth and air, and experiencing all the affections which accompany these, presented a strange variety of appearances."
- Timaeus, Plato
Like a pendulum, the last 15+ years of my life have been characterized by vacillating periods of building up and tearing down, accumulation and loss. For some time now in my art practice, I have embraced a fair amount of the uncontrollable, but this body of work more fully explores the continuum of constructive and destructive forces.
As the Covid-19 shutdown stretched from weeks into months, I found it increasingly difficult to make work in my studio. I craved to be outside in the fresh air. I spent a lot of time on my back porch, and one object that revealed itself kept drawing me in. There was an old piece of wood I had salvaged from the riverbank. A small sapling had grown through a knot-hole in the timber, creating the illusion that this long-dead tree remnant had regenerated and come back to life. The concept of the "essential nature" of objects took root, an idea I began to explore in this new body of work.
I used materials on hand, leftovers from a back porch rebuild. At first, I worked under a yard umbrella, and then I purchased an event tent that I turned into an outdoor woodworking space. I mitered 4x4s into multiples of compound-cut wedges and re-combined them to create twisted forms. The transmogrification of these materials captivated me–from tree to milled lumber, back to curvy shapes resembling the material's original state. I contemplated the humor and futility, in a way, of my actions and pondered the willfulness of my endeavors. I reveled in contrasting textures and colors, playing up the juxtaposition between the garish neon colors of hot pink "turf", the stark neutrals of charred "branch"-like forms, and the mineral white of salt "molars". Sometimes, the frustration building up inside me could only be satisfied by the cathartic act of setting something on fire.
"For from the communion of the internal and external fires, and again from the union of them and their numerous transformations when they meet in the mirror, all these appearances of necessity arise, when the fire from the face coalesces with the fire from the eye on the bright and smooth surface."
- Timaeus, Plato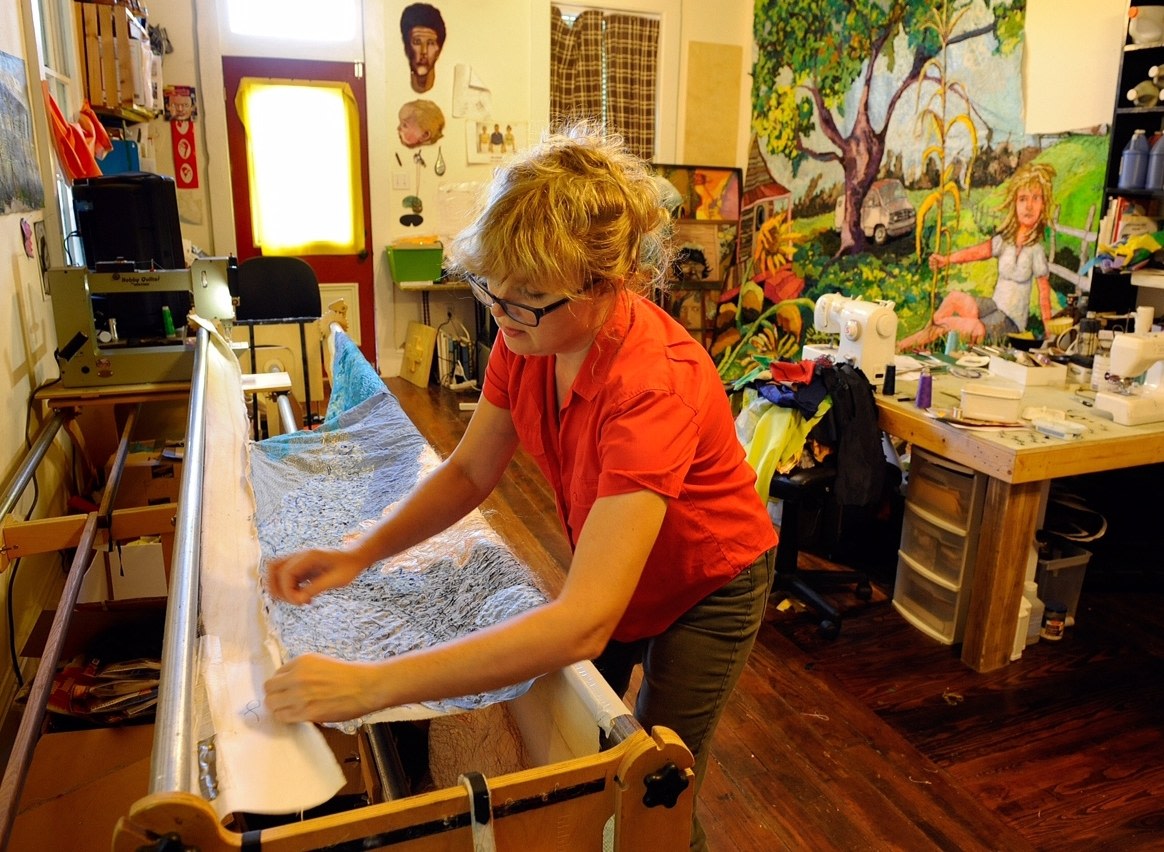 GINA PHILLIPS is a mixed media, narrative artist who grew up in Kentucky and has lived in New Orleans since 1995. The imagery, stories and characters of both regions influence her work. She started her career as a painter, but over the years, has increasingly incorporated fabric and thread into her work. She begins a piece with a simple under-painting in acrylic paint on canvas or muslin…then finishes the piece by appliquéing fabric and thread on top. Phillips uses a communal gathering process to source her fabrics, as neighbors, friends, family often donate to her artistic process. Phillip's work is characterized by a raw, narrative quality. The people and animals telling the story often embody a magical realism.
Gina Phillips has a BFA from the University of Kentucky and an MFA from Tulane University's Newcomb College. Her work has been exhibited in galleries and museums across the country including Pepperdine University, Ballroom Marfa, The Ogden Museum of Southern Art, the 21c Museum in Louisville, KY, the 21c Museum in Bentonville, AR, and Mason-Scharfenstein Museum of Art at Piedmont College in Demorest, GA. In addition, her work has been presented at numerous art fairs including PULSE LA, PULSE Miami, Texas Contemporary, VOLTA Basel, Miami Project for Art Basel Miami Beach, Seattle Art Fair, and Art Market San Francisco. Phillips' work has been featured in Art in America, Oxford American, The Times-Picayune and ARTNews, among others. She was selected as one of twenty-seven international artists featured in the Prospect.2 Biennial of Contemporary Art curated by Dan Cameron and her collection of fabric portraits was exhibited as a solo project at VOLTA8 as part of Art Basel in Basel, Switzerland. In 2014, Phillips' work was featured in a mid-career retrospective at the Ogden Museum of Southern Art in New Orleans, LA and at the Crystal Bridges Museum of American Art in Bentonville, AR in a group exhibition of 102 artists from across the country, entitled, "State of the Art: Discovering American Art Now". She recently completed a 5 month residency at the Joan Mitchell Center, sponsored by the Joan Mitchell Foundation.
Her work is in numerous collections including: Crystal Bridges Museum of American Art, Bentonville New Orleans Museum of Art; Ogden Museum of Southern Art; 21c Museum, KY; the Drake Hotel, Toronto; The Frederick R. Weisman Art Foundation; Tulane University and House of Blues (various locations across US.); Fidelity Investments Corporate Collection; Josh Rechnitz, Thomas Coleman, Ellen and Cooper Manning, Lyn and John Fischbach, and the collection of Marilyn Oshman.