I endeavor to explore the space in between sculpture and painting that neither medium can occupy alone.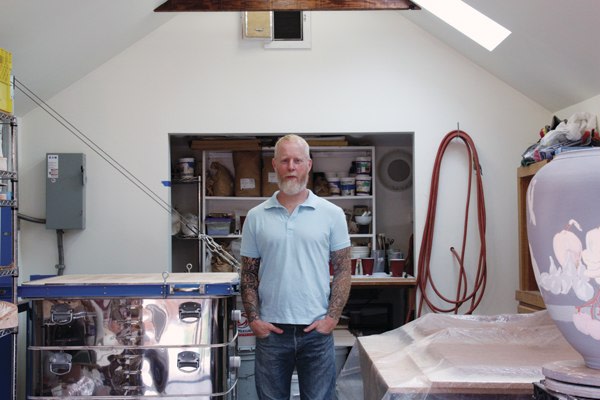 D I R K S T A S C H K E | | | biography
[lives & works - Portland, OR ::: b. 1971 - Hunstville, Alabama]
DIRK STASCHKE is a full-time studio artist who is best known for his exploration of Dutch Vanitas still life themes in the medium of ceramics. His current body of work explores the space in between sculpture and painting and often uses meticulous representation as a foil for examining skill and craft.
He received his BFA from the University of Montevallo followed by an MFA from Alfred University and has maintained an ongoing studio practice and extensive exhibition record for the last twenty years. During this time, he has taught at many notable universities, including Alfred University and New York University. His work has been shown internationally and resides in the permanent collections of several museums including the Smithsonian Museum in Washington (DC), Icheon Museum, World Ceramic Center (Gwango-dong) South Korea, Crocker Museum (CA), Portland Art Museum (OR). He has received various artist's grants including grants from The Virginia Groot Foundation and the Canada Council on the Arts.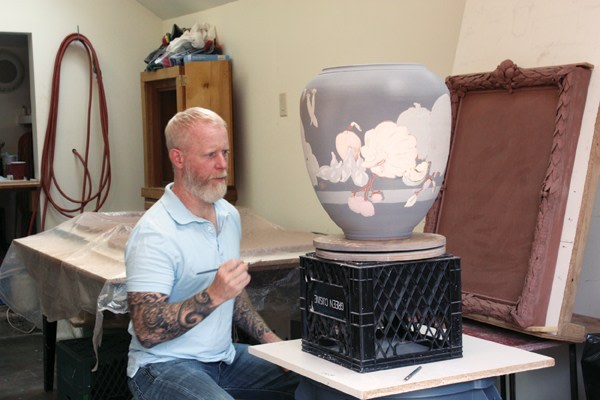 Dutch still life paintings of the 17th and 18th centuries, sometimes referred to as Vanitas, are concerned with the futility of pleasure and the certainty of death. Religious in nature, the paintings also confer the belief that this world is somehow less real than the one that awaits. In a time before the camera, these paintings' reliance on skill and verisimilitude confounded the viewer with realism. This same attachment to skill has been a key element of my own work since the beginning and it has become a greater focus of investigation for the last eight years.
I endeavor to explore the space in between sculpture and painting that neither medium can occupy alone. Look behind a painting and the illusion of space is lost. My work seeks to give that space a tangible form. Like the façade of a movie set, the knowable gives way to a backdrop of structures that exist in support and in reaction to its creation. Representation becomes a departure point and a foil for examining skill and craft.
My questions manifest in the studio as boundaries, rules, or intentionally self-defeating gestures realized through process. In my glaze paintings I look to translate the futility associated with Vanitas into an artistic gesture by painstakingly depicting what is representational and static in the fluid medium of glaze that will change beyond my control once fired. It is a leap of faith that captures a fleeting moment reminiscent of the temporal nature of life. The outcome is never guaranteed
Although I still find joy in the precise, I have become more interested in inventing systems and exploring meaning in the surprises of the ceramic process that occur outside my control. Unlike the pessimism embodied in Dutch Vanitas paintings, my work is an acceptance and encouragement of the things we cannot control. Reality is transformed and futility gives way to optimism.
EDUCATION
1998 Alfred University, Alfred, NY, Master of Fine Arts Degree
1995 University of Montevallo, Montevallo, AL, Bachelor of Fine Arts Degree
SELECTED SOLO EXHIBITIONS
2019 Matter of Perspective, Jonathan Ferrara Gallery, New Orleans, LA
2018 In-Between, Mark Moore Fine Art, Orange Park, CA
2017 Perfection of Happenstance, Winston Wachter Fine Art, Seattle,WA
2016 Nature Morte, (AMOCA) American Museum of Ceramic Art, Pomona, CA
2015 Executing Merit, Winston Wachter Fine Art, Seattle, WA
2014 Bounty, Clark Collage, Vancouver, WA
2013 Sated, Winston Wachter Fine Art, Seattle, WA
2012 Falling Feels A Lot Like Flying, Bellevue Arts Museum, Bellevue, WA
2009 Making Arrangements, Wexler Gallery, Philadelphia, PA
2006 Ornament, Wexler Gallery, Philadelphia, PA
2004 Politics of Clay, Clay Art Center, Port Chester, NY
Wexler Gallery, Philadelphia, PA
2003 John Elder Gallery, New York, NY
SELECTED GROUP EXHIBITIONS
2020 Art Miami, Jonathan Ferrara Gallery, Miami, FL
Rare Earth, Mark Moore Fine Art, Orange Park, CA
Culture Object, New York, NY
2019 Art Miami, Cynthia, Corbett Gallery, Miami, FL
Our Shared Heritage, Huntsville Museum of Art, Huntsville, AL
State of the Art, Giertz Gallery, Champagne, IL
2018 Collect, London Art Fair, w/ Cynthia, Corbett Gallery, London, England
Vasa Vasorum, Curated by Garth Clark at peters Projects, Santa Fe, NM
Revive, Remix, Respond, The Frick Museum, Pittsburgh, PA
New York Ceramics and Glass Fair, w/ Ferrin Contemporary, New York, NY
Sugar, Eutectic Gallery, Portland, OR
2017 C'est le bouquet, Fondation d'entreprise Bernardaud, Limoges, France
The Evocative Garden, NCECA invitational exhibition, Portland, OR
Selections from the PAM permanent Collection, Portland Art Museum, OR
Sweet Tooth: The Art of Dessert, Shelburne Museum, Shelburne, VT
BC to BC, San Diego Art Institute, San Diego, CA
LH Project, Trifecta: Future Forward on the Ceramic Highway, Portland, OR
Form Over Function, Winston Wachter Fine Art, Seattle, WA
2015 Crafting a Collection, Fuller Craft Museum, Brockton, MA
2014 Ceramic Top 40, Red Star Studios, Kansas City, MO
Dark Matter, Boehm Gallery, Palomar College, San Marcos, CA
2013 Bunting Biennial Ceramics Symposium, Birmingham Museum of Art, Birmingham, AL
2012 Shifting Paradigms, Museum of Fine Arts, Houston, Houston, TX
Enough is as Good as a Feast, Gallery Jones, Vancouver, BC
COLLECTIONS
The Smithsonian, American Art Museum, Renwick Gallery, Washington, DC
Icheon Museum, World Ceramic Center, Gwango-dong, South Korea
The Crocker Art Museum, Sacramento, CA
The Portland Art Museum, Portland, OR
Museum of Fine Arts Houston, Houston, TX
Everson Museum of Art, Syracuse, NY
Nora Eccles Harrison Museum of Art, Utah State University, Logan, UT
AMOCA (American Museum of Ceramic Art), Pasadena, CA
Huntsville Museum of Art, Huntsville, AL
Fuller Museum, Brockton, MA
Birmingham Museum of Art, Birmingham, AL
Burlington Art Museum, Burlington,ON
The Burchfield Penney Museum, Buffalo, NY
The International Museum of Dinnerware Design, Ann Arbor, MI
ASU Art Museum, Tempe, AZ
The International Museum of Ceramic Art, Alfred, NY
Fidelity Mutual, Cincinnati, OH
Southern Progress Corporate Collection, Birmingham, AL
Various Private collections