A rhythmic undercurrent circulates through these environments, and an overlay of various solidified forms stabilize that pulsing energy.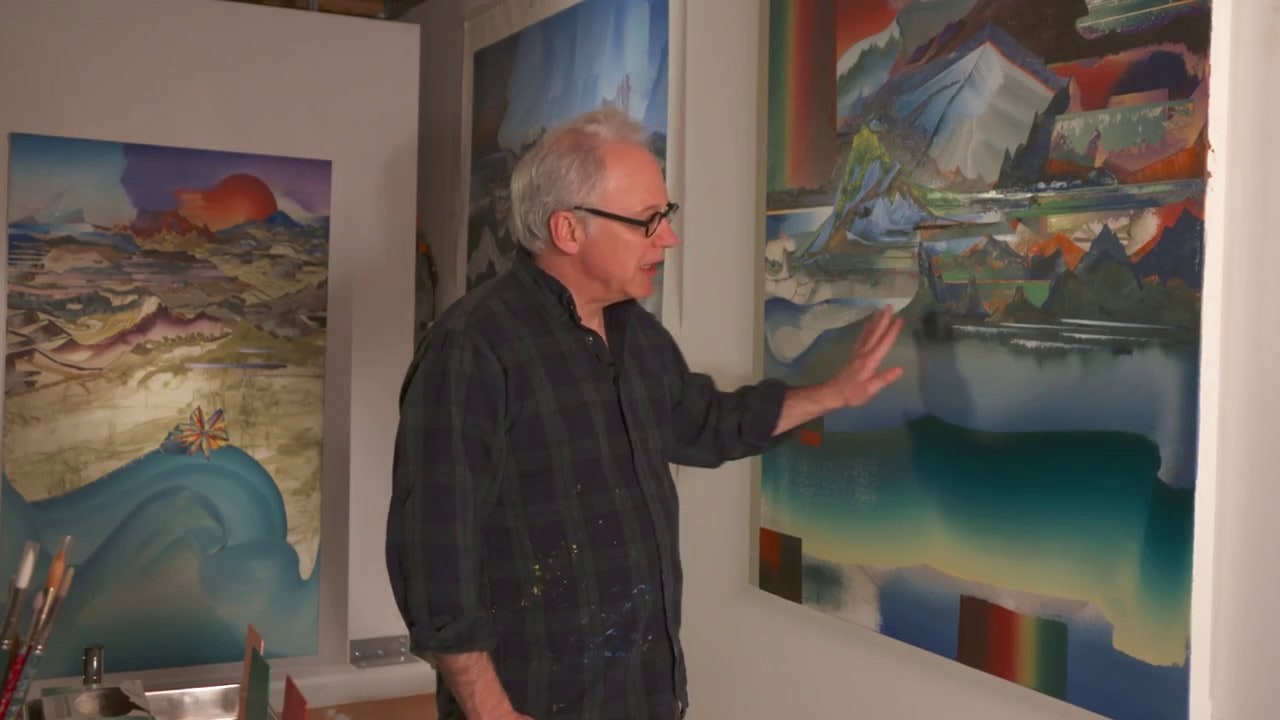 E L L I O T T G R E E N | | | biography
[lives & works - New York, NY ::: b. 1960 - Detroit, MI]
ELLIOTT GREEN was born in Detroit, Michigan in 1960 and has been making paintings in New York since 1981. After spending a year in Rome in 2012, his work developed a new sense of space and landscape, characterized by panoramic, far-reaching vistas, and geophysical features like mountains, reservoirs and skies that seem to melt impossibly into pure gesture. In his recent work, the conventions of landscape are upended to produce a visual experience of equal parts gestural energy, emotion, memory, and metaphor.
Until a decade ago, Green believed that his, "home was in his head, and the ideas and images it produced would be generated independently wherever he went". He is now aware that, "every new environment he enters in some way influences the way he thinks and the paintings he makes."
Jana Prikryl notes, "Elliott Green's paintings appear to be in continuous motion, the way animals, plants, and ultimately rocks and mountains are in continuous motion, even when our human vision fails to apprehend it. Placing great thick gestures of paint amid minute intricacies and vice versa, his compositions demonstrate the movement of the universe on both the macro and the micro scales."
EDUCATION
1978-81 University of Michigan
SELECTED SOLO EXHIBITIONS
2017 Pierogi, New York
2016 John Davis Gallery, Hudson, NY
2009 D'Amelio Terras, New York
2005 Singer Gallery, Denver, CO
2003 Tibor de Nagy Gallery, New York
COLLABORATIVE EXHIBITIONS
2016 Studio10, Brooklyn, NY, "Narratives of Enigma", with David Brody
The Frank Institute at CR10, Linlithgo NY, Creation Stories, with Colin Gee
2010 Clough-Hanson Gallery, Rhodes College, Memphis, TN, "Team SHaG", w/Amy Sillman and David Humphrey
2006 I-Space, The University of Illinois, Chicago, "Team SHaG"
2005 Lafayette College, Easton, PA, "Team SHaG"
1998 Aldrich Museum of Contemporary Art, Ridgefield, CT, "Team SHaG"
Pamela Auchincloss Gallery, New York, "Team SHaG"
1997 Postmasters, New York, "Team SHAG"
SELECTED GROUP EXHIBITIONS
2018 "La Cage Aux Fauves", Double V Gallery, Marseille, FR
"Oscillation", Jonathon Ferrara Gallery, New Orleans, LA
"The Nature Lab", LABspace, Hillsdale, NY
2017 "Life's Rich Pageant", Jeff Bailey Gallery, Hudson, NY
"Space as Narrative", Concord Center for the Visual Arts, Concord, MA
2016 "Outside In", Steven Harvey Fine Art Projects, New York
"Representing Rainbows", Gerald Peters Gallery, New York
"Shimmering Substance: Selections from Pollock-Krasner Foundation Grantees of the Hudson Valley,"
Kleinert/James Center for the Arts, Woodstock, NY
"Faulted Valley Fog", Transmitter Gallery, Brooklyn, NY
SELECTED FELLOWSHIPS, GRANTS AND RESIDENCIES
2017 BAU Institute, Cassis, France
2016 Yaddo Residency
2011-12 Rome Prize