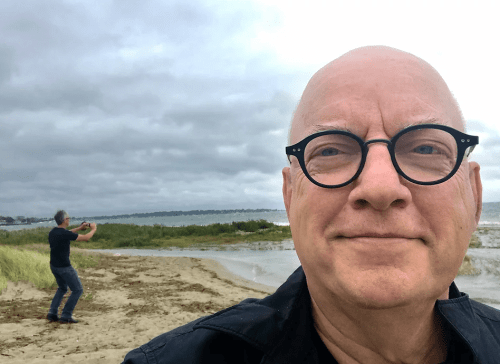 [lives & works – Philadelphia, PA ::: b. 1954]
Peter Olson is a Philadelphia-based photographer and ceramicist who creates pieces that chemically and conceptually fuse the two media. His work collages forms and imagery from European art history with his original street photography,
"There's nothing on them that hasn't gone through my camera" is his axiom.
Olson is a trained professional photographer, who over the past six years has explored new frontiers in the medium with his entrée to ceramics. He is inspired by museum collections and throngs of hurried pedestrians in NYC and other large metropoles. The repetition and rhyming of ritual, both daily and religious, act as a baseline for the bands of imagery that play like sheet music around his ceramic garnitures. The kaleidoscopic photo-collages wrap around the pieces completely, including the interiors, creating moments of surprise, and hint at narratives as the past and present melt into one another
"He is the fields most inventive and inspired master of fired decals (a 17th century innovation) infusing them with the passion for his subjects and magical, kinetic banding.", from CFILE.
EDUCATION
BFA Photography/ Film, University of the Arts, Philadelphia, PA
SELECT EXHIBITIONS
2022 The Ohr-O'Keefe Museum of Art: 2022 Permanent Collection
Fuller Craft Museum: Craft Biennial Exhibition
2021 The New Mexico Museum of Art Breath Taking images of a Covid-19 World
The Crocker Museum Cool Clay nine piece garniture in the permanent collection on display 2021
2020 Art in Doom, group show, Jonathan Ferrara Gallery, New Orleans, LA
2019 Cool Clay, permanent collection, Crocker Art Museum, Sacramento, CA
Michael Warren Contemporary, Denver, CO
2018 The Image and the Vessel: A Survey of Contemporary Pottery, Lawrence Arts Center, KS
Peter's Project, Santa Fe, NM
Fahrenheit 2018, American Museum of Ceramic Art, Los Angeles, CA
Object Lessons:Selections from the Permanent Collection, Fuller Craft Museum, MA
Lux Center for the Arts, Lincoln, NE
Fired, group show, Bernice Steinbaum Gallery, New York City, NY
2017 SOFA EXPO, The Reed Gallery, Chicago, IL
Zanesville Prize Winner's Exhibition, Zanesville, OH
CeramATTACK II, Duane Reed Galler, St. Louis, MO
Cluj Ceramics Biennale, Romania
We the People, American Museum of Ceramic Art, Los Angeles, CA
Solo Show, American Museum of Ceramic Art, Los Angeles, CA
Dynamic Range, LUX Center for the Arts, Lincoln, NE
2016 Asher Gallery, Houston Center for Contemporary Craft, Houston, TX
A to Z, permanent collection, American Museum of Ceramic Art, Los Angeles, CA
Uncommon Exposures: Photography in Craft Based Media, Fuller Craft Museum, MA
2015 Memories and Mourning, The Clay Studio, Philadelphia, PA
Cluj Ceramics Biennale, Romania
SELECT COLLECTIONS
The Crocker Museum, permanent collection, nine-piece garniture
American Museum of Ceramic Art, permanent collection, The LA Series
Fuller Craft Museum, permanent collection, a pair of vessels
The Athenaeum of Philadelphia, The Olson Collection