"My themes are inspired by the dynamics of crowds, space and group behaviour. I see this way of expressing myself as the only way for self-control and focus on that what is relevant."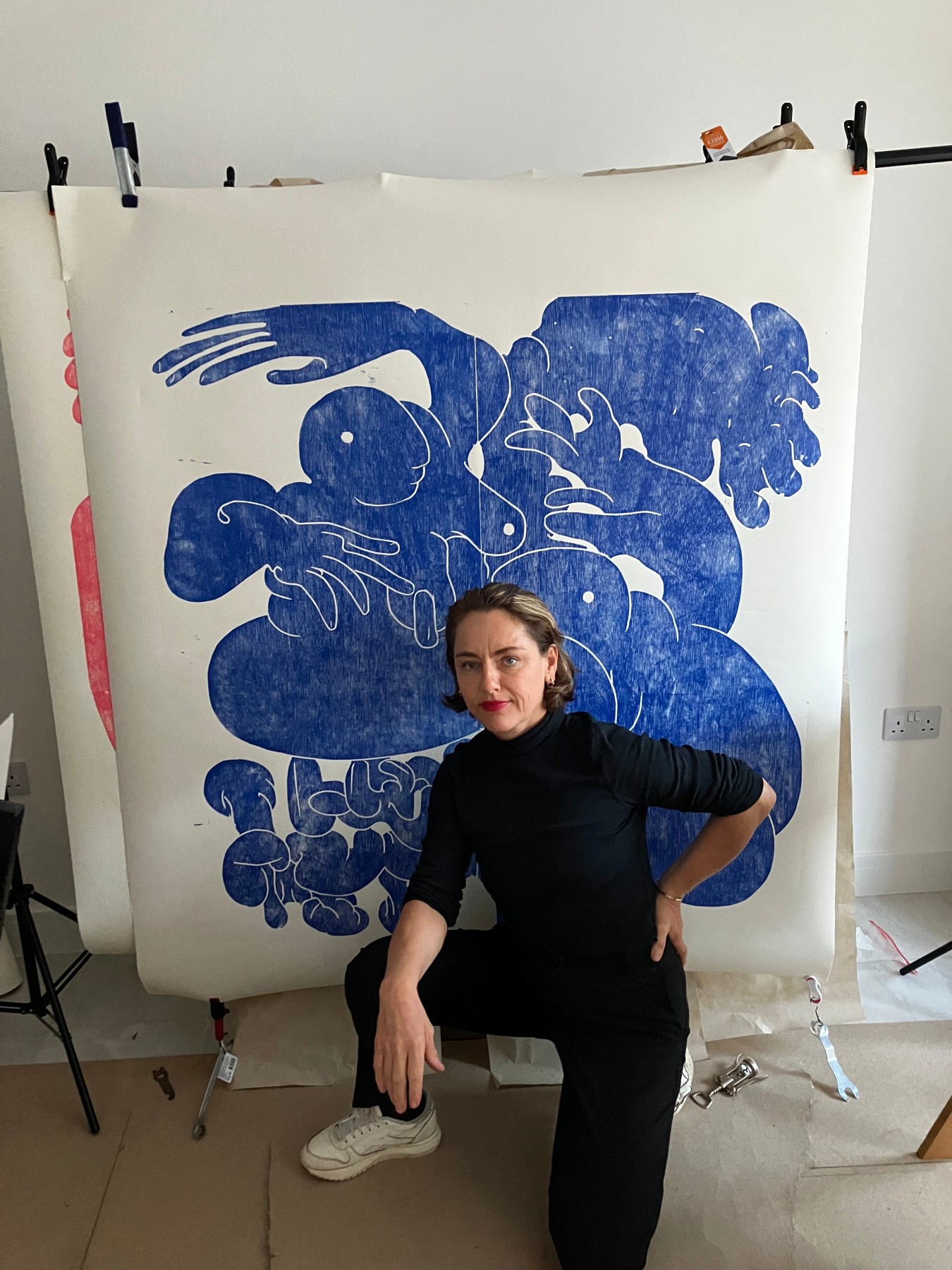 [lives & works - Daphne, AL ::: b. 1969 – Linz, Austria]
Inspired by awkward and uncomfortable social situations, Barbara Kuebel creates life-sized woodcuts that serve as a whole-body experience to the viewer. Although the monochromatic colors virtually pop from the paper, her aim is never to draw attention away from the monumentality of the picture. The creatures in Kuebel's work are forced to connect with each other, forming knots and shapes that appear deformed at first glance. Freeing herself of the conventional techniques of woodcutting, Barbara Kuebel emphasizes her resentment towards traditional artistic representations. The figures are pioneers for the emancipation of traditionally accepted artwork. With the freedom to be whoever you want to be, the bodies on the pictures are nowhere near realistic. The contemporary view to realism is questioned as the figures on the canvas transform from the moment they are born. The bodies are uniquely intertwined, reflecting whichever fantasy the viewer sees fit. Much like the artwork, the audience is presented with a deep sense of individuality, possessing the ability to undergo indefinite change, and escaping the rigid constructs of society.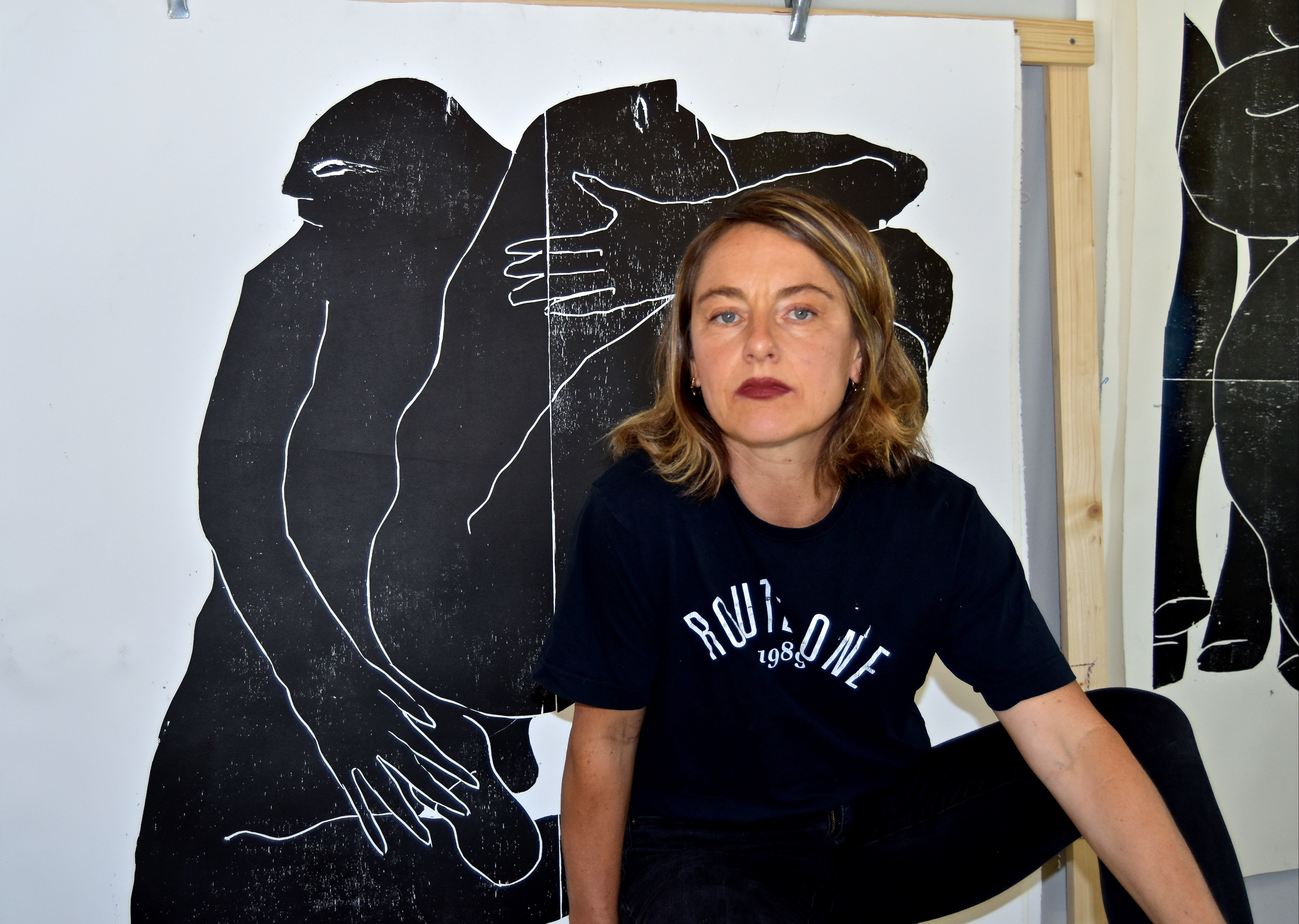 I'm driven by spontaneous energy, nervousness and an attitude that "cannot wait". My themes are inspired by the dynamics of crowds, space and group behaviour. I'm specifically interested in peoples' experiences within "social" situations such as a queue or an elevator cluster.
My figures are not inevitably human but display transformed fluid aspects of being or gender and often show unrelated interactions. These works also display an irrelevance of environment and background - Totale Künstlichkeit - nichts ist echt. I have been working in a reduced pictogram-like style for many years and see this way of expressing myself as the only way for self-control and focus on that what is relevant. For me the technique of woodcut has a lot more in common with sculpturing rather than 2-dimensional work techniques. One word about colour: black is "matter" rather than "colour" in order to transport the monumental side of the figures - I though do use silver and red at times.
To add something on a more private note: I was born and raised in Linz, Austria. 1994+1995 Academy of Fine Art Vienna, MMag. art. class of Anton Lehmden/ Painting + class of Herwig Zens/ Art Education. Life stages in Switzerland, The Netherlands, Brazil and the United States. I live and work now in Daphne Alabama - US since 2018.
EDUCATION

1994-1995 Academy of Fine Art Vienna
Psych (hons) degree from the Open University in the UK
MS Degree (Psychology) from Walden University, Minnesota.
Selection of exhibitions and participations
2022 "22 artists to collect in 2022" collection by Saatchi Art.
https://www.saatchiart.com/stories/22artists/?fbclid=IwAR0k-
2hELPyD6HHYUDKyVpiiVd5I62K3WiZkShQvKPSRAA0YfgQna6hYXcg
"Artists to watch in 2022" at RiseArt. UK
Artsinquare International Art Magazine,, selected artist; https://artsinsquare.com/issue
Selected Artist, Shanghai International Art Fair. 2022.

2021 TOAF Chicago by Saatchi art, TOAF Dallas by Saatchi art, Tokyo International Art FAir 2021,
Chicago, US; Dallas US, Tokyo Japan
2020 Group show Søren Christinsen gallery, New Orleans, LA
No Dead Artist group exhibition, Jonathan Ferrara gallery, New Orleans, LA
Selected Artist TOAF The Other Art Fair. Chicago, IL
KAI LIN Art, group show, Atlanta, GA
10th printmaking biennial douro Portugal
2019 Featured in the Saatchi Catalogues fall 2019+winter 2019
Graphic award/ Academy of Fine Art Vienna

Artist in Residency Institut Hartheim centre for outsider art and art brut/ A
Movimento Linz/ Centre for contemporary art.
Space for contemporary art Academy of Fine Art Vienna. Fragmented Reality.
Fondation Fernet-Branca, Saint Louise, France. Singers from Outer Space Xylon International
Town Library and gallery Linkoping Norkoping, Sweden "According to fixed rules"
Xylon 141 "Couples" Member of Xylon Switzerland, association for woodcutting and printing.
Nextcomic, Festival for International Comic Art, Linz, Austria
Schau mich an/ Viennese Portraits, Hermesvilla/ Vienna, Austria
Festival de Gravure, Diekirch, Luxembourg
Galerie im with Xylon Switzerland. Eisenwerk, Frauenfeld, CH
Jubelbuch, group publication by Xylon Switzerland with among others, Roman Signer, John Armleder, Claudia Comte.
Kulturtage Therwil, CH
JaamZIN Art Magazine, Singapore - featured illustration artist
Selected artist, Art Maze Magazine issue 26
Feature Collosal magazine through Saatchi Art
2021 Selected artist Eixo Paralelo, Rio de Janeiro, 2021
Participating artist at The Other Art Fair by Saatchi Art , Chicago, Dallas and London.

MEMBERSHIPS
Former member of Xylon Switzerland Member of "Die Kunstschaffenden" Austria Member of Xylon Austria