"The dilemma of making paintings after its 'death' and 'return' is to choose which legacy to embrace. Calvert's paintings are palimpsests, archeological digs, engagements with art history, improvisational riffs, and fractured views. They wrestle with painting's dual legacy without settling on an answer."

- John Yau, Hyperallergic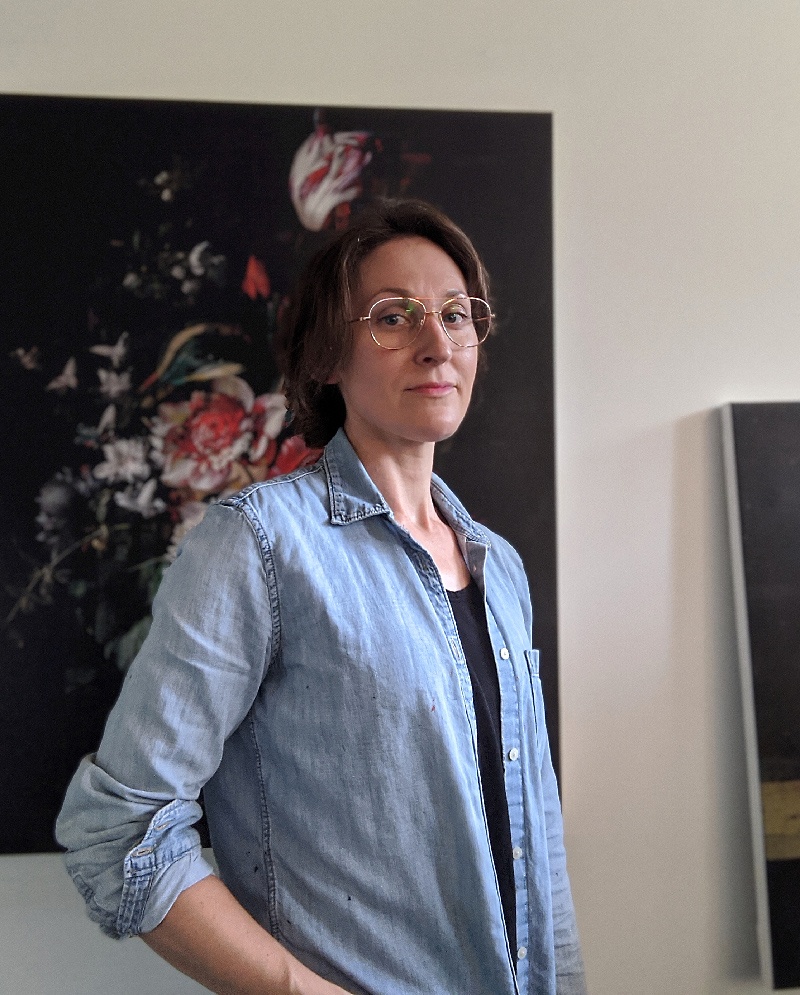 T I F F A N Y C A L V E R T | | | biography
[lives & works - Louisville, KY ::: b.1976 Hanover, NH]
TIFFANY CALVERT received her MFA in 2005 from the Mason Gross School of the Arts at Rutgers and her BA in 1998 from Oberlin College. She first exhibited at Jonathan Ferrara Gallery in the 2020 group exhibition Art in Doom, curated by Matthew Weldon Showman. Calvert's work has also been exhibited at the Lawrimore Project (Seattle, WA), E.TAY Gallery (NY), the Speed Museum (Louisville, KY), the Susquehanna Art Museum (PA), and Cadogan Contemporary (London, UK), among others. Residencies include the Djerassi Resident Artists Program, I-Park, and ArtOmi International Arts Center where she received a Geraldine R. Dodge Fellowship. Calvert has received grants from the Great Meadows Foundation and the Pollock-Krasner Foundation. She is Associate Professor of Art at the Hite Institute of Art & Design, University of Louisville and a member of the Tiger Strikes Asteroid curatorial collective.
As an artist, Tiffany Calvert applies contemporary painting techniques to historical imagery. Her recent work uses the seventeenth-century Dutch floral still life as a springboard for exploring the shifting nature of human perception. Calvert's paintings incorporate diverse technologies, including fresco, 3D modeling, and data manipulation. The exhibition includes eight new paintings from her latest series which uses image generating machine learning models (StyleGAN) trained on images of 1,007 historical still life paintings to create the image printed on canvas. A digitally-designed large format vinyl stencil is then applied to the surface before being painted on with oils. When the stencil is peeled off it creates hard edges, and preserves areas of the print. John Yau, in his Hyperallergic profile, compares their "improvisational riffs and fractured views" to de Kooning.
My practice connects painting's history to our current visual culture, which is shaped by algorithms, artificial intelligence (AI), and blurred boundaries between real and virtual. I use image generating machine learning models (StyleGAN) trained on a dataset of Dutch and Flemish still life paintings to create new invented images, which I print at large scale. Using stencils to protect parts of the printed images, I paint onto them. These masks create hard edges where paint meets reproduction.

The machine learning models generate forms reminiscent of still life, but distorted and unexpected. It was, in fact, a viral mutation which created many of the tulips depicted - a virus which today growers must use AI to eradicate. Like AI itself the images are seductive, but the initial beauty of the paintings is a ruse. Reproduction and painterly abstraction are indistinguishable in some places; the paintings unfold to reveal their mutations.

These blurred boundaries describe both the production and the product of my work–even my own gendered position is unstable, since my paintings contrast flower subjects, historically suitable material for women artists, and interventions into the fields of gestural abstraction and digital media, which are both historically coded masculine.

Tulips depicted in paintings, like digital imagery (NFTs) have been subject to use as currency, and particularly ripe for economic manipulation. By recalling flower paintings, I elicit their role as emblems of value speculation, futures trading, and Dutch colonialist trade and power. In turn, my work explores the way that painterly "transgression" and invention are often complicit in the expansion of speculative capitalism. Like the invisible hand of the market, AI in our lives is largely invisible. By collaborating with AI, I investigate how these neural networks shape our decisions by predicting and replicating needs and desires.
EDUCATION
2005 MFA Mason Gross School of the Arts, Rutgers
1998 BA with honors, Oberlin College
SELECTED EXHIBITIONS
2022 Volcano Lovers, Haunt Gallery, Berlin, Germany
ENCOUNTER/EXCHANGE (with Naomi Reis), Praise Shadows Art Gallery, Boston
Image Value, Jonathan Ferrara Gallery, New Orleans
One of Many, Harper Gallery, Greenville SC
The Art of Europe, Speed Museum, Louisville KY
2021 The Shands Collection: New Directions, curated by Julien Robson. Quappi Projects, Louisville
Past Performance as Indicator of Future Outcomes: an exhibition of work by women who use Artificial Intelligence in their art making process, Carnegie Center for Art & History, IN (cancelled during COVID)
2020 S/ample Data, Tinney Contemporary, Nashville
Art in Doom, Jonathan Ferrara Gallery, New Orleans
2019 SH/FT: Tiffany Calvert + Alex Kanevsky, Susquehanna Art Museum, Harrisburg PA
2018 Spring, Cadogan Contemporary, London UK
Semper Augustus, Moremen Gallery, Louisville KY
Something Pretty, Morlan Gallery, Transylvania University, KY
2017 Tiffany Calvert: Rainbow Chaos, Arkansas State University, AR
The Prolonged Gaze: Tiffany Calvert, Vian Sora, and Nhat Tran, guest curated by Mirada Lash, Curator of
Contemporary Art at Speed Museum, Zephyr Gallery, Louisville, KY
Synthesizing Nature, The Center for Contemporary Art, NJ
New Recruits, Cressman Center for Visual Arts, Louisville KY
2016 Verblist, curated by Mark Joshua Epstein, E.TAY Gallery, New York, NY
Synthesizing Nature, View Art Center, Old Forge NY
every thing every where, Brick + Mortar Gallery, Easton PA
Tiffany Calvert, tenure exhibition, Raritan Valley Community College, NJ
2015 Solo exhibition, Carl & Sloan Contemporary, Portland OR
The Memory Palace, Cedar Crest College, PA
2014 The Last Brucennial, The Bruce High Quality Foundation, NY
The Dam Show, Reservoir Art Space, Queens NY
2013 Collapse, Visual Arts Center, Mississippi State University, MS
PILF #1, Sunset Park Studios, Brooklyn NY Ortega y Gasset Gazette, online
2012 Humus: Landscape Painting Across a Spectrum of Abstraction, The Center for Contemporary Art, NJ
Dystopian Delight, Mike Rollins Fine Art, New York, NY
SELECT COLLECTIONS
21C Hotel + Museum
Fidelity Investments Corporate Collection
Art Omi Collection
Hudson County Community College Foundation
Omni Hotel
Various Private Collections